35th Founding Anniversary and 28th Kali-kalihan Harvest Festival February 5-9, 2018 Schedule of Activities
Mayor Mac with Diwata Sang Kali 2018 Contestants
+
April Joy "April Alit of Brgy Kumaliskis
2 Cyrah Dindin Barega of Brgy Igmaya-an
3 Jerah Mae "Jiji" Loar of Brgy Bunga
4 Rishelle Mae "babe" Toreno of SofronioCarmona Memorial National High School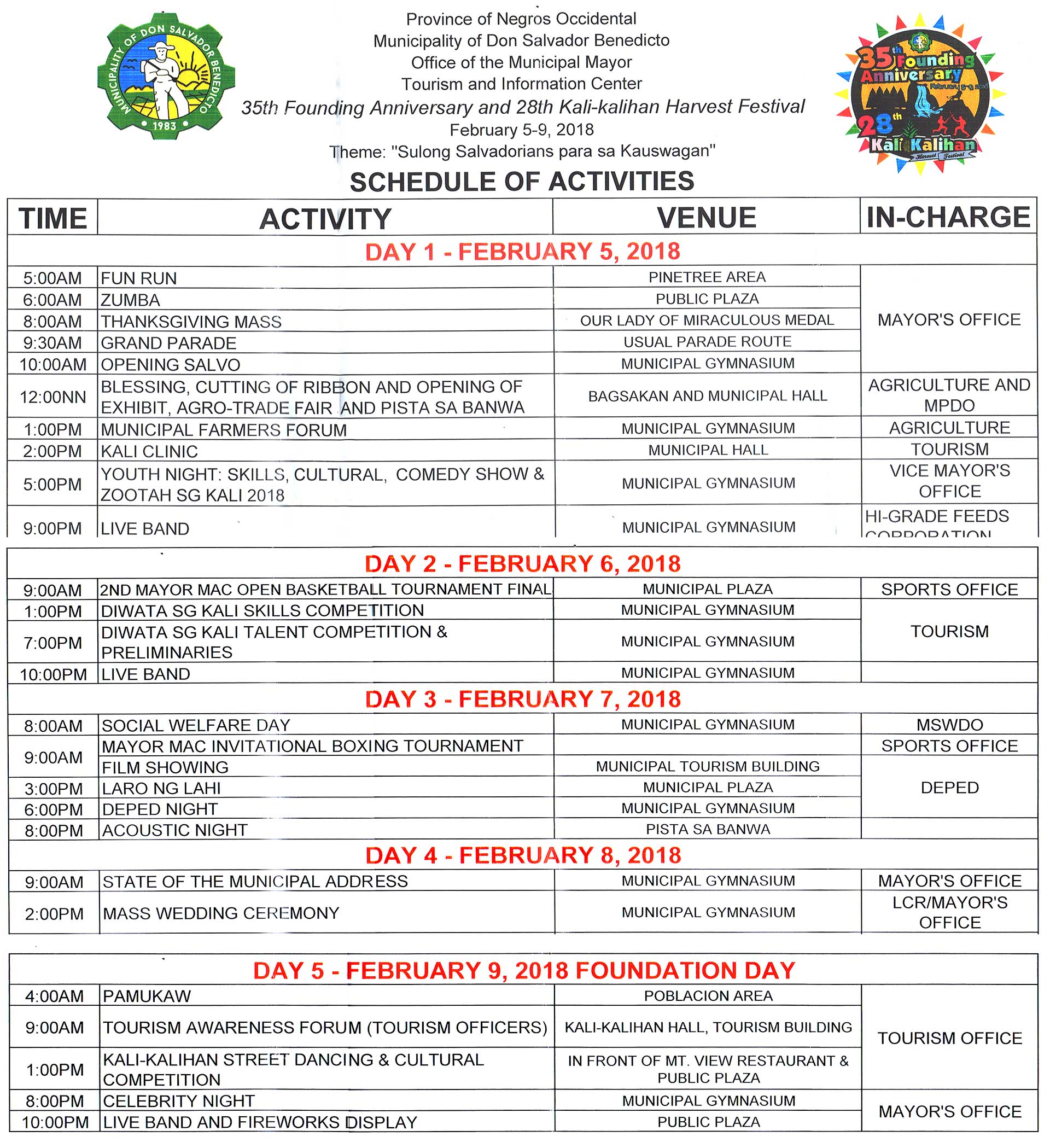 5 Jhudiel "Jhudiel" Llanda of Brgy Pandanon
6 Kim Jane "Kim" Baylosis of Brgy Pinowayan
7 Judy Ann
8 Mary Cris "Cris" Lastimoso of Brgy Bunga
9 Jacquilyn "Jacky" Magapan of Brgy Pandanon
Welcome to the refreshing town of Don Salvador Benedicto
It is a great honor and privilege to extend my warmest welcome to you as you explore the summer capital of Negros Occidental, the beautiful Don Salvador Benedicto. Our high elevation and abundance of trees make this charming town we call our home the best place to be when you want to escape the searing heat of the cities and towns below. We have a thriving ecosystem coupled with natural and man-made wonders that will make your heart swell with pride. This website was established to allow you a peek of exciting things that await you here at DSB. We also intend for this website to be a repository of information for both residents and visitors of Don Salvador Benedicto.
Once again, welcome to our town and enjoy your stay!
The Mayor's Welcome Message
Here's What's In Store For You
Checkout and enjoy the sights, sounds and products in DSB
Our Advantages
We have a cool climate all year round, sweet pineapples, tasty bananas, and many other fruit and vegetable products.
We have majestic waterfalls and spring resorts. We also have rice terraces, pine trees that fill the air with a fresh pine scent, and superb panoramic views. On top of all these, our people are very friendly, accommodating, and always smiling.
These our advantages over other places here in Negros Occidental.
SAVOR Our Fine Products and Tasty Delicacies
The sweetness of our delicious and organically-grown pineapples is enough to attract people to come back for more
ENJOY Our Cool Atmosphere and Scenic Views
The breathtaking and majestic views that our town offer is enough to make every day of your life a bliss
RELAX At Our Great Resorts and Natural Wonders
We have several resorts and perfect picnic spots for you and your family to enjoy
This is what locals and tourists say about our beautiful town
Check out what our visitors and locals have to say about our beautiful town
Visit Don Salvador Benedicto NOW!
Get in touch with us at: +63-34 473-0187,
+63-34 473-0188, +63-34 473-0189

Our Blog
We strive to give you updates on the latest happenings in the lovely town of Don Salvador Benedicto
In the midst of the vast mountain ranges of Negros Occidental, you will find the beautiful town of Don Salvador Benedicto. Situated on a semi-plateau section of these mountain ranges about 2,500 feet above sea level, it is the youngest municipality of Negros Occidental. Also known by its initials, DSB is approximately 47 kilometers away from Bacolod City, the capital of Negros Occidental, locals and tourists love the cool climate that the town
...
Read More
When you think of pine trees, what picture or image comes immediately to mind? There is actually a great chance that you will think of a pine tree filled with ornaments and lights with gifts underneath it. Yes, when talk is about pine trees, it is usually the festive picture of Christmas that comes to mind. However, do you know that pine trees do more than just being the center of attraction in your homes during Christmas?
Read More